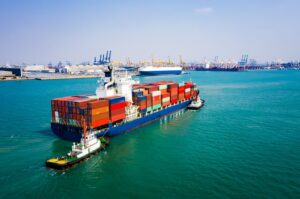 After making a down payment for a vessel to ship a car or parcel to Nigeria from the USA, your order will be booked on the next available vessel. How long does it takes a cargo ship from USA to Nigeria?
It takes around 6 to 8 weeks for your goods to arrive at the Nigerian port, in addition to the 1 to 2 weeks of customs clearance. So, roughly, you should expect to get your goods via vessel shipping in about 10-20 days. Remember, a vessel can even encounter monstrous weather conditions, which may further add to the delay.
For a freighter voyage, it takes about 40 to 50 days for the good to arrive. However, these days, there are shorter routes, which may cost more, but you're sure of getting your goods within a couple of weeks. The long shipping duration is not only about receiving goods from the United States to Nigeria. It cuts across the board. For instance, it takes around 46 days for a round trip between the US West Coast to New Zealand or Australia. So, generally, voyage lasts between 80-100 days. 
When it comes to the best shipping company, SGK Global Shipping Services is ahead of other brands in so many fronts. Our shipping service is very fast and highly affordable. We deliver packages from the USA to Nigeria, either in Lagos, Port Harcourt, or Abuja. 
Read Also: What's The Cheapest Way To Ship Packages In 2023
Container Shipping Departures From Usa And Arrivals To Nigeria
When shipping a vessel, there are different locations in the United States that serve as take-off points. These include Houston Texas, Long Beach California, San Francisco California, Los Angeles California, Tacoma Washington State, Miami Florida, Savannah Georgia, Charleston South Carolina, New York, New Jersey, Baltimore Maryland, Washington DC, and Norfolk Virginia. 
Estimated Transit Time To Send A Container From USA To Lagos Nigeria
As mentioned earlier, the average time to expect goods from vessel shipping from the US to Nigeria is about 4-6 weeks. 
Read Also: What Items Can I Not Ship To Nigeria From The US 
Shortest Transit Time From USA To Nigeria
The shortest route to ship cars, vehicles, boats, and personal effects via vessel to Nigeria from the US is through the New York NYCT Terminal. You can register with us to start vessel shipping. We have all it takes to walk you through cargo shipping.